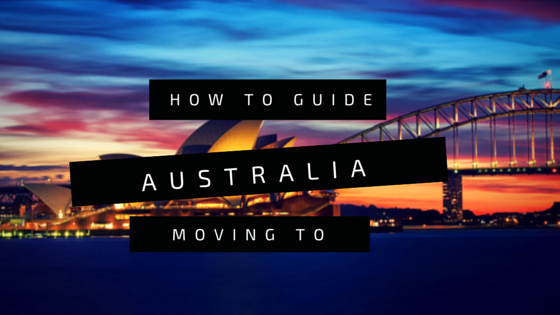 Guide To Moving To Australia
Moving to Australia is highly appealing to many people – the sun, sea and sand seems a lot better than a lot of the dreary days we are too often faced with here on the British Isles! Of course, it's not all about the sunshine, and there are many reasons to immigrate to Australia, from career opportunities right through to quality of life and more. There are a few different ways of making the dream a reality, from using the temporary visa system in place for 18-30 year olds, or moving permanently either through a sponsor or points based immigration system.
Either way, you will absolutely need to ensure that you have the correct, legal paperwork for your proposed plans, and that you organize this in advance of your moving date.
Where To Move?
You might already have some plans in mind about where you would like to move. Australia is an incredibly large country, and its population density is very focused in urban areas. However, in more rural or coastal areas, there are less people, and as a result, it may be cheaper to live. Popular destinations for expatriates include Sydney and Melbourne, but as Sydney especially is highly expensive, many look to other areas including Perth and Brisbane, with many trying out a few areas before settling properly.
Housing
Housing in Australia is generally easy to find, with most of the living areas being concentrated – there are huge parts of the vast country (such as the outback) which are sparsely populated.
If you are renting, there are plenty of legitimate sites that you can use to find property, although many Australians and expatriates will also use websites like Craigslist. It is very important to ensure that you exercise caution – if something looks too good to be true, it often is. Much like when living in London or another big city in the UK, places like Sydney are often very expensive to live in, and costs will be inflated.
If you're looking to buy a home in Australia, unfortunately there is a housing crisis and it can be difficult for a lot of people to get onto the market. However, if you have the funds, it is very attainable to buy reasonably sized property, you should simply ensure to budget around 7% of the property price towards fees – everything from the solicitor to a 'termite check'.
Finding Work
If you are moving temporarily, there are certain restrictions on your visa. This generally means that if you want to stay for more than a year, you will have to work for at least three months doing agricultural work, which typically means picking berries or similar! For those who only want to stay for a year, you're pretty much allowed to do whatever you would like, providing that you do casual work which lasts for six months or less with any one employer. If you wish to stay for longer, you will need to apply for sponsorship. You may find any of the above difficult if you don't have sufficient funds in your bank account to meet requirements, if you suffer from serious medical conditions, or if you have a criminal record.
Other ways to enter Australia for longer periods of time include finding a company for sponsorship, or marrying a citizen, however this must of course be legitimate. In the case of finding work and moving on a points based system, you will need to meet certain criteria, such as having the right skills and experience. Once you have done this, many Australians look for work using similar websites to the ones we use in the UK. These can include Indeed, Apply Now, and Career One.
Minimum wage in Australia as well as salaries in general are often very high, but remember that this is relative to the cost of living in many cases.
Finding Schools
The Australian Education System is among the best in the world, ranking in the top ten for many subjects. Therefore, you can rest assured that your children's learning and development will be in good hands when you decide to move.
Schooling does vary between state and territory, but you will typically find a range of different types of school available to choose from. These include government schools, otherwise known as public schools, as well as independent private schools and religious faith schools, which are typically Catholic. About one third of all students attend these types of school.
Australia follows a three tier education policy, from nursery, to primary, to high school. Depending on state, students may leave at 16 or 17, but education is offered until the age of 18. There is a voluntary fee for all schooling in Australia, but clearly the most expensive education is private or boarding school education.
The academic year runs from January to December, with four terms in each. As Australian summers are over the Christmas period, children are typically granted around 6 weeks of holidays around this time, in place of the summer holidays children in the UK would experience in July and August.
Australia benefits from plenty of Universities, with excellent links to institutions all over the world.
Transport
When it comes to driving, the laws will vary slightly by state. In general, temporary residents do not need to switch their driving licence, but permanent residents hoping to exchange their UK licence for an Australian one should adhere to time limits with the appropriate ID. In some cases, people will be expected to retake either the practical test, the theory test, or both.
Depending on where you live will depend on whether or not you will need a car. Remember, Australians are one of the few others in the world to drive on the left like us, so it's not too much of a culture shock!
Big cities in Australia do benefit from amazing transport links, and the country is also covered by an extensive rail network, as well as bus tours and other options such as domestic flights when travelling further afield – it's such a huge country, of course!
Culture
Australia is a very laid back nation, with plenty of people enjoying the great outdoors. There is plenty of opportunity to do so – beautiful beaches, great greenery and sprawling desert ensure that there's no excuse to stay cooped up inside in the summer months if you don't want to. It's very common for Australians to walk to walk or to head to meet up at beaches and so on afterwards; it's a very social and outdoorsy culture for those who are interested. Of course, us Brits often need reminded about the dangers of skin cancer, so it is important to always cover up with sunscreen and hats at all times, no matter how 'used to it' you believe you have become.
On that note, the quality of healthcare in Australia is very high, with 'reciprocal' arrangements in place with the UK government for certain treatments. However, this normally only covers tourists, and so you'll need to make sure you're insured, or eligible for 'Medicare', otherwise it could prove very expensive.
Australia has a wealth of wildlife to be enjoyed, as well as some incredible native animals like the koala bear and the kangaroo. There are of course also some more dangerous inhabitants, such as insects and snakes, and it pays to be cautious in these respects.
Australians enjoy drinking in bars and eating out at restaurants, and other pastimes include sport – especially cricket and rugby – and attending music events such as live concerts.
The main religion is Christianity, but many people do now not consider themselves as overly religious, and of course, there are many other religions in the nation, too. Australian culture enjoys a positive human rights record and a general acceptance of diversity. There is also free healthcare throughout the country with an excellent record.
Overall, the British and the Australians have a great relationship, as their ties date back several years and Australia remains part of the commonwealth to this day.