Things to Consider…
Culture
German culture can be very different to parts of the UK, as they are well known for being stereotypically orderly. But as one of the cleanest countries in the EU, Germany has a diverse landscape with a surprising amount of festivals and community gatherings.
As such a sociable nation eating out can be far less expensive than the UK, and many Germans will eat out regularly because of this.
The philosophy of Germany is very much a 'work hard, play hard' stance, so while at first it may appear a little restrictive, there is a lot of time designated to celebration.
Many of the similar traditions we uphold here in the UK are also relevant to Germany, with Christmas and Easter celebrated in the same way.
Language
With a strong dialect it may be useful to learn the German language to help you integrate into the community.
Although many Germans are taught English and will be able to translate for you, it is respectful to attempt to learn the language and show your appreciation for the nation which you now call home.
There are many free online courses now available, but once there you may find it more helpful to find a native German teacher so that you can understand the words and how they should be spoken.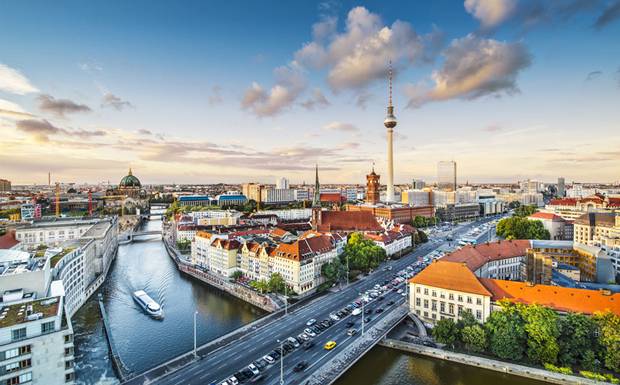 Finance
If you're looking to set-up a bank account in Germany, you will need to prove your residency, which can come the form of a document with your registered address.
It is a mandatory requirement that you register at the local Einwohnermeldeamt (registration office) within your first week of arriving in Germany as this will provide you with a passport, proof of address, marriage certificate and income tax card. There may be a small fee involved in gaining these documents so it is best to ensure you research this as these items will be essential for setting up a bank account and processing any financial transactions whilst you're in the country.
Driving
Germany is often said to be the place to live if you love driving.
With it's toll-free no-limit autobahns, your UK licence is still valid for you to enjoy some driving freedom. If you decide to take you existing car over to Germany you will not need to immediately register it, but after one year the vehicle will become liable for German registration.
With the weather conditions in Germany you are more likely to experience snow, and due to this it is law that all cars and motorbikes are fitted with winters tyres when conditions are snowy.
Household Issues
Germans take great pride in their community and you will be expected to withhold the high standards of living.
It is common place for many German families to live in apartments, and if you decide to take residence in an apartment block you may expected to contribute to the upkeep of the communal areas.
You may also come across restrictions in your neighbourhood as there are specified times in which loud music can be played.
Employment
The rate at you find employment in Germany will depend entirely on the skills and qualifications that you hold. The job market in Germany is very competitive but luckily you do not need to apply for a work permit to take up employment as they are part of the EU.
On average the working week is 38 hours which can often be overwhelming, especially as many German businesses have to abide by strict regulations.
Education
If you're moving your family to Germany, education will be a top priority, but you can feel reassured that the German education system produces high performing students. Although most schools teach in German, there are some schools that teach lessons in English.
Germany's international schools are well known for their modern approach to education so may often command high fees.
For further information about the lifestyle you can expect in Germany, read our blog here.
German Removals Quick Quote Form